Teddy bear artists interviews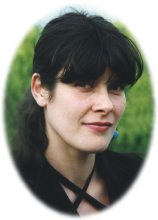 Laurence Veron - French bear artist
French teddy bear artists are very seldom on the internet. Laurence Veron was the first french artist to introduce her creations on her website : www.alentours.com
Her work is already presented in Linda Mullins "Tribute to teddy bear artist - series 3" and she regularly collaborate with international bear magazines.
She also established a partnership with the famous french fashion designer Jean-Charles de Castelbajac, and created a special bear for him.
Learn more about the first french bear artist on the internet...
When did you begin making bears, and how did the story start ?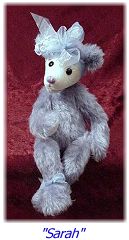 "Each Christmas, I used to sew toys for friends'children and for my nephews. I could say I really began my toymaking carreer creating dolls clothes about seven years ago - I even published a book with dolls' patterns ! - but I have to admit that they were not very professionnal, not enough for me to become a doll artist. In 1994, I designed my first bear pattern, and offered the bear to my recently met boyfriend for his birthday, as he likes bears very much. I couldn't stop so far. Unlike many bear artists, I hadn't collected bears before, nor made kits or used commercial patterns. In fact, I consider that selling only original designs is an important battle for me. "
Since there is no "Bear School", would you please tell us more about your background ?
" I have studied psychology during 4 years but I never worked in that field. I entered a fashion design school in 1988, and then worked as a fashion designer . Then I learned pattern making and was modelist during 3 years with a ready-to-wear manufacturer. I also had experience of fashion shows with two young creators. After a long illness I had to quit my job and change my carreer. Bears came just at this time to enlighten my life. I began with bears for children, and turned to collectibles in 1996. I think that working again and again on patterns, studying books and trying new ideas has allowed me to improve my work a lot. This is the best school for me !
Is there a particular bear size which you prefer to work with ?
" My bears are rather small. My favourite size is about 30 cm (12 inches). I have made a few miniatures, from 3.5 cm (1.5 inches) and some bears up to 50 cm (20 inches). "
Does a new bear come as an "instantaneous" idea or is he the result of a slowly developing process ?
" Both can happen. Sometimes, I have a particular idea of a shape, of a detail or of mixing fabrics that pops into my mind. I work on the pattern to give shape to my idea, but I'm never certain of the result. It's only when the head is almost finished that the character really appears. Other times, many ideas "swim" in my head for a long period, and I have to wait that it becomes more precise before working. There is also two ways of making a new pattern : I sometimes draw a sketch of the bear and realise the pattern from it, or I use one of my old patterns and transform it to get the new shape I want. "
When you design a new bear, are you more "driven" by the shape or by the materials, textures ?
" I'm definitely more shape oriented but I also like to mix fabrics: woven cotton and mohair for example. I like very much to work on the patterns : create new darts, new cutting lines, new positions, new type of heads... This is always a challenge for me. But details such as coloured stitches, leather noses, beads, or other ornements are also interesting to try. Now I want to work more with colours, so there are a lot of new perspectives. "
Can you tell us the story of your collaboration with Castelbajac ?
" Remembering that Castelbajac had made bears and bear related clothes, I decided to make an interview with him for the british magazine "Teddy Bear Times". It was very long to get that interview but when I had the great fashion designer on the phone, he was very nice. To thank him, I sent him one of my miniature bears named after him, "Jean-Charles", and he really became found of that bear : he ordered me 6 of them ! He also put my bear "Bibok" in his concept-store, wanting him to be an exclusive. I was very proud. "
So, you sometimes work also as a columnist for some teddy bear magazines ?
" Yes. Not only for "Teddy Bear Times" as said before, but also for french magazine "La Vie du Jouet" ("Toys Life"), US review "Teddy Today" and other publications. I really like to share my passion and my knowledge. That's also why I give bearmaking classes and organize free exhibitions. "
Do you make other animals than bears... ?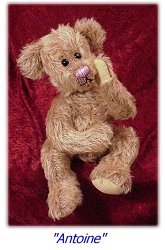 " I have had a try at bunnies, elephants, rats, cats, dogs, and monkeys, but only from time to time. In France, many collectors and shops prefers bears, and I have to admit that they are also my favourites. But who knows what it will be in the future ? "
Through which support/medias do you sale your bears ?
"I sell my bears only in 3 french shops, including Castelbajac's concept store, and to one american retailer. I participate four times a year to specialised french shows such as Paris-Creation and Toys Forever. This allows me to meet my customers and have contacts with other bear creators. Collectors can also buy my bears during exhibitions or order them on my website www.alentours.com "
Do you think it is nowadays possible to explore new paths in bearmaking ?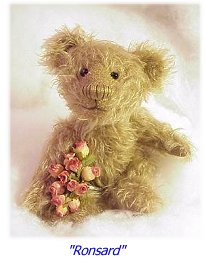 " In France, there is still a lot to do. We can already see a great change, bears are less classical, more original. As the number and skills of french artists grow, quality and research improve. But I believe we're still far from USA or Germany concerning innovation and marketing. If we consider not only France but the whole bearworld, I'm sure that new paths are possible too. We're only at the beginning of bearmaking as a real form of art. What happens in the contemporary dolls field can be an example, and lead us to new ways of expressions, much nearer to modern sculpture. "
How do you see your own future as a bear creator ?
" My projects for the future are to create a travelling exhibition, and to work for a manufacturer, either for collectibles or for children soft toys. But I will keep on creating one-of-a-kind and limited series, and continue to share my passion through bearmaking workshops and pattern selling. I also intend to propose patterns and bear kits via Internet. My goal is to live only from my creations. "
Merci beaucoup (Thank you very much) !
Discover more Laurence Veron creations at www.alentours.com.
Notes :
Read our bear artists interviews :